Warning: long post with LOTS of pictures.
Today was certainly an adventure. I left dressed in layers (which was a very smart thing it was both chilly and hot at times.) with the intention of taking the bus OUTSIDE of Oxford to head up to Woodstock and Blenheim Palace. Left the flat at 10 and caught the bus at 10:27.
I will warn you now... I took over 300 pictures. I will try to take it easy.
The palace did charge admission but I think it was well worth it. Plus there was a promo where I upgraded my pass for free so I can come back if Mr. Buckeye or Mom want to visit when they come. I walked... A lot. It was at least a quarter mile to get to the palace from the gate. But once I arrived, it was breathtaking.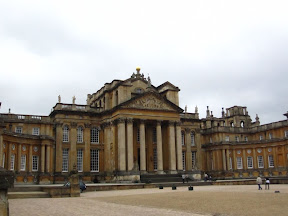 I made it my mission to do as much as physically possible while I was there. And I succeeded. First up I walked through the palace. Sadly no photography allowed but there were countless portraits, tapestries, pieces of china, and beautiful things to look at. I went through the Winston Churchill exhibit. Did you know he never actually lived here? He was born here though and I visited the room where he was born, he also proposed to his wife here in the gardens. Then I hopped in with the tour tomfollow through the rest of the palace. I know a lot about the Marlboroughs and Churchills and Spencers now. Really interesting. I really wish I could have taken pictures of the long library. It was amazing, 10,000 volumes and the ceiling was gorgeous.
After walking through the chapel I headed outside to the Water Terraces.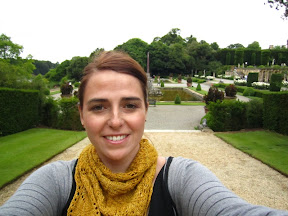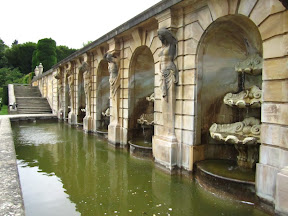 Past the temple of Diana and up to the Rose Garden.
I felt like Alice in Wonderland!
Then another looong walk to the Cascade where there was a beautiful bridge and waterfall.
Followed by a nice walk by the River.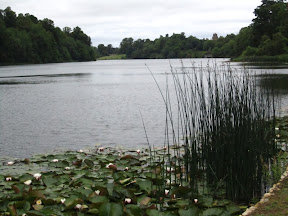 At this point I hadn't eaten all day so I had some lunch at the water terrace. Cream of Carrot soup with croutons and a roll.
After mustering up some more energy it was time for the gardens. First up- the secret garden.
And then a trip back inside to tour the upstairs, only it ended up being a story type tour with rooms where you listened to the story of the first Duchess' lady's maid traveling through the ages and learning more about the palace.
I then decided to go outside the palace gates to walk up to the Column of Victory. Again, another long walk. This is about half way up the field.
And about halfway from the palace on the path. Actually standing on the bridge over the Queen's pond.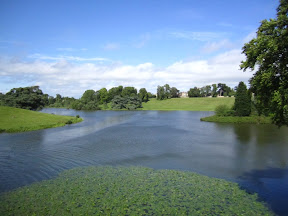 Sheep! Getting up to the Column was like walking through a minefield.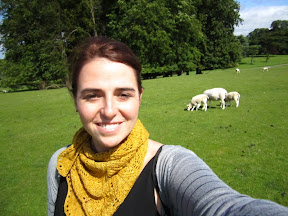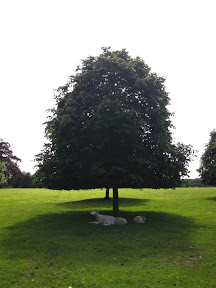 Of course when I got there I had to walk back. So I stopped to rest once I reached the pond again.
Last up was to head over to the pleasure garden. It is pretty much the family garden and there are activities and games and such for kids. I walked through the Butterfly garden and had to go through the hedge maze. Got lost in there for 30 minutes.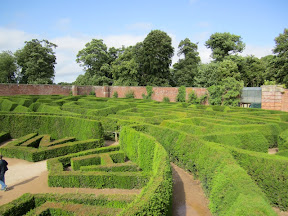 Once I made it to one of the bridges I could scout my way out.
And my trip to Blenheim Palace had come to a close.
But my day wasn't over. I decided to go off the beaten path and walk to the village of Bladon to visit Winston Churchill's grave. It was a good idea in theory... It wasn't until I was walking back that I had embarked on the longest walk of my life. I really thought I was lost but then I started to find things I saw on the bus so I knew it was the right direction... Just way out of the way.
I didn't quite know where I was going and stopped to look at this memorial statue. I saw a little church up at the top of the hill to the left of that building and decided to go take some aerial photos.
Only I had walked to the church where the grave was instead! Thank goodness I stopped for that photo.
Headstone of Churchhill's father. His mother and brother are here as well.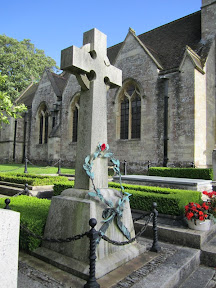 Heading back. I was really way out there...
At least I was going the right direction!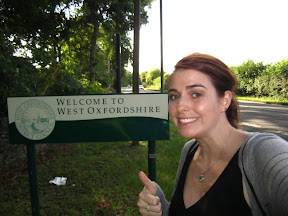 Getting closer!
Whoo hoo! I made it... Over an hour of walking later.
Then of course the bus was 20 minutes late so I waited and waited. But I made it back a little after 8:30. had delicious penne bolognese and soaked in the bath. But oops. Apparently I had some skin showing for the whole day and got sunburned.
Now it's some Bridget Jones time and relaxing with my CEP Compression socks on. My calves are killing me.
Update: I walked approx. 7 miles yesterday in Woodstock/Bladon. Not including walking to and from the bus, the maze and the palace tour upstairs and down... I know this because I have just mapped it. no wonder my legs ache this morning.
Posted using BlogPress from my iPad