The weather took a turn for the cooler again. Back to cardigans and layers.
Nothing terribly exciting today. New project I am working on that should keep me insanely busy for the next 3 days.
I did venture out today and actually ate a meal in a restaurant. Not takeaway. I went to a local seafood place- Fishers. Luckily it wasn't terribly busy till I was almost finished so I didn't feel too awkward sitting there with my wine and book. (new book... I like it so far. ROOM was great!)
I did however feel a bit weird when these were delivered to the table...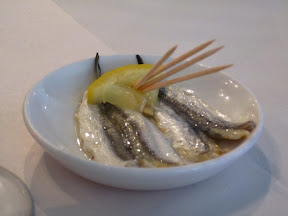 I did eat one...to try. It wasn't terrible. But I don't know that I want to make a habit of eating fresh sardines.
Enjoyed a delicious dinner of fish and chips. (served with mushy peas and gherkins... Only in England I suppose) it was super yummy and I quite enjoyed it. Plus I didn't have to carry food back to my flat and have dishes to watch afterwards! Even better.
Finally made progress on the test knit I am working on for Mindy. It would really help if I knew how to count. Once I got my numbers straight it was smooth sailing. I got 5 rows of lace done tonight.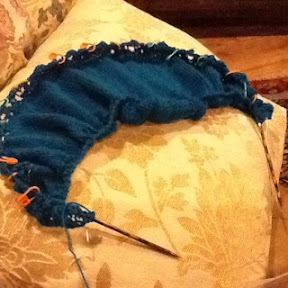 My knitting smells minty now... my lifeline is mint floss. A knitter will improvise with whatever they have and we all know how much I NEED my lifelines :)
- Posted using BlogPress from my iPad