So Liz asked how long I am here- I am here for a total of about 10 weeks. I arrived on the 13th and I will head home on 7 July. Then I am heading back to NYC on the 12th and coming home the 14th. THEN I am back across the pond- this time with Mr. Buckeye for a week of vacation on the 29th and I will ship him back alone and return in September. My mum is also coming out at the end of my stay and we are wrapping up in Paris! Goodness. I'm exhausted just thinking about it. But really I could not be happier and feel more blessed to have the opportunity to come out here. I have learned so much already in just 3 days that is completely priceless. Global business is fascinating... And tough stuff!
Keeping with the work scheme- i snapped a few work related photos today.
Rocked the Holden for the first time today (and discovered a colleague who also loves to knit!) braided hair again today, the fishtail.
My new home- note the stone wall. It makes me happy :)
Got my first bit of fish and chips from the canteen. Fish was good, chips were eh... Could be because I had to eat in 15 min to get to a meeting and they were cold when I finished them. Tip- you have to pay for packets of condiments... Weird. But probably saves on wasted packets. Also, normally Friday is fish and chips day bu we have an event tomorrow from 1-4. I will take pics for sure!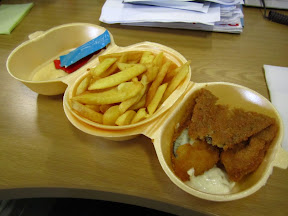 My walk back to the park and ride... And my bus.
And another first... Took advantage of bus riding with a little knitting time!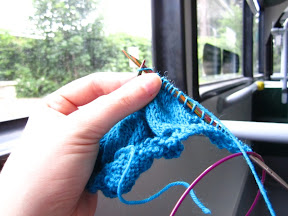 Okay, bedtime. I am completely pooped. I was actually really tired beginning around 7 and forced myself to stay awake. I just relaxed in the bath, had a glass of wine, will be calling the Mr. And then praying I can be asleep in the hour. I think I am finally starting to move to UK time. It's not been easy and I totally understand jet lag now... Unfortunately
- Posted using BlogPress from my iPad