Today was an interesting day. I wen to bed last night feeling exhausted... Only I could not sleep. This is a new experience for me so after watching videos till 1am and feeling like a zombie I attempted to drift off... Which finally happened roughly 1 hour later. Not the best way to end the night. Damn jet lag caught up with m I suppose. Hopefully I can close the gap a little more tonight.
Refreshed myself with a shower and made my first cup of English tea in the kettle.
The shoes that nearly killed me in h 5 minute walk to the bus. (side note: I found this skirt on sale at NY&Co for $12 I think and it might be my new favorite piece of clothing! I feel like should be on Mad Men when I wear it.
Interesting note- Band-Aids are referred to as "plasters" I think... Might have been plastic... Don't remember. Will find out tomorrow.
After a great day at work- I am learning loads already! We went out to cocktails and dinner. 4500 miles from Delhi was a wonderful Indian restaurant. The King Prawns were spicy and amazing! And I tried Dahl Maculki which was amazing too. And the naan... So yummy.
Not many photos other than a hilarious photo of a colleague smoking next to a no smoking sign... But I did snap 2 from the neighborhood we were in.
Across the street from where we had cocktails... See the double decker?
And Delhi was down this road on the right. very sleek and modern decor. Quite busy for a Wednesday night also.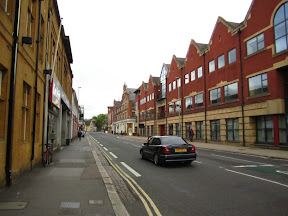 I am so lucky to have amazing colleagues who have welcomed me with open arms. I was also unexpectedly gifted with an Oxford University sweatshirt (they know how much Americans LOVE college shirts/sweatshirts even if we didn't go there! Haha guilty as charged !) and a guide book for Oxford. I can't wait to go exploring this weekend.
I am definitely stopping at Lush and Topshop!! And we drove by these ghost tree things that were absolutely stunning. I must go back and find them!
Until tomorrow... Night!
Blog Press is being a turd and not letting the photos post... I wil try and edit later.
- Posted using BlogPress from my iPad