Today is the summer solstice, the longest day of the year. Instead of taking full advantage, i came home ate dinner and then poured myself into a book along with playing words with friends on the ipad.
It started out well enough, cute skirt and flats to start the day off.
And then of course super busy at work. I took lots and lots of notes today and actually participated in conversations and calls. It is all starting to come together and is very reassuring to me that I am able to follow along... Except for the accents. That might be the hardest part. For example I was on a call today with people in America, Italy, France, Belgium, Oxford, while being in the room with a guy from India and another from Scotland. Pretty awesome though right?!
Once again I bailed on my run. My legs did kind of hurt. Maybe tomorrow I will try again. Leftovers for dinner since I was just not feeling cooking or walking for takeaway. Then I spent 2 hours parked on the couch reading.
I am fully engrossed in this book at the suggestion of Hallie. It is sweet and disturbing at the same time. Trust me on this. But it is. I'm over 100 pages further into it than I was this morning.
I have figured out that as long as I am busy, being away from home doesn't hurt as bad. Something that made it a little sweeter was the fact that our computer got fixed at home. Enter Skype:
Although the video quality was absolutely horrendous and the sound had at least a 15 second delay which resulted in having to mute and call on the phone, at least I could see the husband. And I am pretty sure I freaked Chloe out when I talked to her. It was still nice to be able to see them and it warmed my heart.
I did get to see the Headington Shark today from the bus though. Sadly too fast for my camera. I will definitely go back and snap some photos in person though. It was literally a ginourmous shark head first in this roof. Completely random and yet totally in place.
Forgive me for the lack of interesting material and pics today. I will just share a few others from the weekend.
Another angle of an area of Christ Church.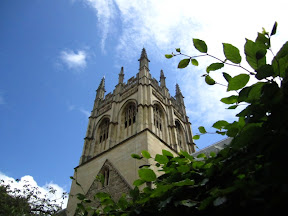 The details on the architecture in England is just beautiful.
Just in case you get lost...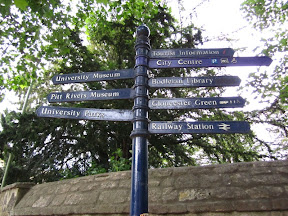 The Rhodes House in New College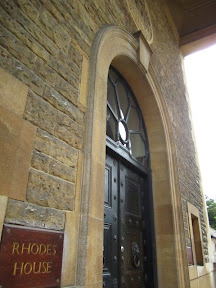 Studying in the courtyard.
Do you ever get homesick?
What should I do this week/weekend to stay busy?
- Posted using BlogPress from my iPad