Teal/sea foam green blueish and purple go together right?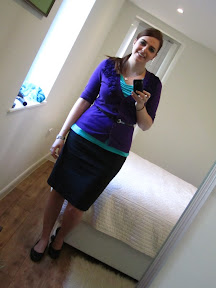 Another busy day at work. I can't believe there is only one more day till I am on my own. Well, not really on my own, but my colleague leaves for extended leave on Monday. I am super happy for him. I think he really deserves it even from what I have seen over the last 2 weeks. I am going to miss him and I can certainly feel the pressure. He has quite big shoes to fill and I am ready to accept the challenge.
After work I headed off to the golf club with Penny! First of all, her husband is a doll and really funny. They picked me up in their sports car that they had to "clean up and rearrange to be a salon car" and we went for Thai night. (really...more Thai?) but it was good Thai! Actually today was one of the best meal days I have had. I had a summer vegetable pasta bake for lunch and then Tom Yum soup, Red Curry chicken and rice for dinner. Plus 2 glasses of red wine. I got to meet some of their golf club friends and it was a lovely evening. Lots of time spent comparing US to England- major differences and such. And some sports talk... Of course Wimbledon and the US Open. Then I started talking about football and they did as well... Only they meant soccer :)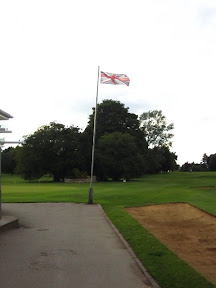 I had a great night. Wrapping up now to get ready for tomorrow, it is going to be a doozy.
- Posted using BlogPress from my iPad