The day started out lovely enough then turned cold and rainy.
It was a jam-packed day since it is the last day before my colleague goes on leave. I think he might have been sad to go-in could tell by the jovial skipping out of the office he did. Nah, just kidding. Scots don't skip. Plus he being 6'4 might have been quite comical and definitely would have drawn attention.
I had to run home quickly to drop my things and got to see my favorite little people and talk to some of the family! Huge thanks to Britt for taking the awesomeness of technology over to the house and getting everyone together so we could talk with our faces!!
After getting kisses from the kids and signing off, I met everyone at the restaurant. We ended up at Cafe Coco. Spot where I had my first meal and drink in Oxford last Monday. It was a much better experience being with friends this time. I tried a couple of new things... Including an Elderflower drink. Absolutely fantastic!! Totally refreshing and just a little bit different. It was Absolut, Elderflower syrup, mint, and soda water I believe. And the spinach, Parmesan cream calzone with mushrooms added. Yum yum!
Then since I am now the local of the group we walked over to the Cricketers Arms pub and had a drink. Again, much more fun in the company of people I knew. I had a Malibu and pineapple and was given the cutest little bottle of pineapple juice I had ever seen!
They are a fun group. Great mix of personalities that compliment each other so well. Hopefully they don't mind I share this photo. Of course they all laughed when I rocked the self timer and used a tall barstool as the tripod.
And you are probably wondering about the title of my post. This is one of the attractions at Cafe Coco... And the tube to the right kept spitting out ice in the tub! It was completely random and totally hilarious!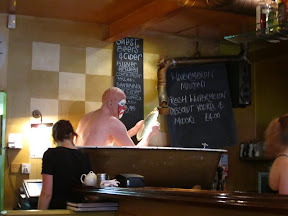 Now I am off to bed. Big day tomorrow I am actually venturing outside of Oxford to Woodstock. Site of the Blenheim Palace... Also the burial site of Winston Churchill. Hoping to get some fantastic photos and have a really enjoyable day. Cross your fingers for good weather!
- Posted using BlogPress from my iPad