Yesterday I couldn't manage to wear sweats. I mean really... I would have loved to but I knew it would be for the best to leave the pjs at home. So instead, I went as comfortable but still appropriate as I could. While I was back in the states, the office changed it's policy and jeans are now allowed any day of the week. Duh, of course I needed to take advantage.
Tried out the whole dress over jeans thing... I think I like it.
Today was back to pants... Excuse me, TROUSERS. Lisa at work laughed today when I said pants. She finds my American accent hilarious. Tomato, hallway, and nail polish are some others that make her laugh.
Thursday is still the only day during the week I have even the remotest chance of going shopping. I still get irritates at the fact everything closes by 530 around here! Unfortunately I was still at work a bit late so I only ended up with about an hour to get to the city centre and look around.
Back to Primark where I intended to get some jewelry, maybe a few tops, and a pair of shoes. Instead I walked out with a cute set of bracelets, a twin pack of face wipes, and a pair of grey tights. Bonus! Only cost me £2,50 for all of it! I will try again this weekend when I have more time for the shoes and tops.
I have been wanting to go over to Boots to pick up some nail "varnish" and I had just enough time to run over there before they closed. I picked up a pretty grey color by Barry M. It's a wet cement color that is still pretty neutral i think and has me ready for fall! (though it already feels like it here with highs of 70*) And there was a special buy 2 and save £1 so I picked up a top coat too. Both for £5 total. Not bad at all!
Finally a stop at Sainsburys for some veg pots. Never had them before but I am hoping they will be quick tasty lunch/say dinner so I don't have to have takeout every night. A Thai coconut curry and an Indian Daal were the 2 I chose.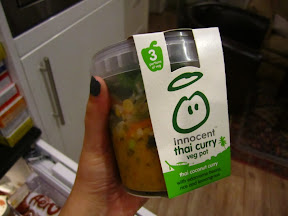 And some other gummy sweets since the Wine Gums I had the other day weren't so fantastic.
And that wrapped up my day of "shopping." looking forward to tomorrow-it's Friday!
Ps- it has been a very special birthday week!
Happy 1st Birthday to Ryan and Juliana!
And Happy Happy Birthday to Katie, Amanda, Kace, and Abby!!
- Posted using BlogPress from my iPad