My new digs... I feel like Goldilocks.
Saturday no luggage yet but that didn't stop us from doing just a little bit of walking around. but then we worried we would miss the courier so back home we went to wait, and wait, and wait some more. The luggage wasn't delivered till about 8 that night unfortunately. But Ma was spent from the hellacious travel day so a day to recoup was needed.
Sunday we headed out to wander yet again.
A walk up the Carfax tower was in order. Though she pretty much is afraid of heights so was for the most part terrified for the 30 minutes we were up there.
Then we went to the one place I have been waiting and waiting to go through! Christ Church! Aka Hogwarts inspiration!
Inside the courtyard by the olive tree and fountain.
The great hall. (inspiration for the great hall of Hogwarts)
I may or may not have sat down in one of the chairs and a Keeper of Christ Church may or may not have immediately scolded me and yelled from across the hall. Nope, not me.
Cathedral at Christ Church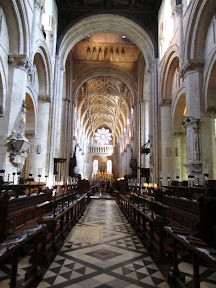 LOVED the ceiling. The symmetry was just awesome. Pretty sure I will be cropping and hanging this photo somewhere in my house.
I have little booklet from the tour, lots of interesting things about Christ Church. (which is actually a college at Oxford University, also famously known for where C.S. Lewis attended Uni and wrote Alice's Adventures in Wonderland)
Also took Ma to have her first Lush experience... I amazingly walked out with nothing. I still have a bath bomb and bubble bar to use... And the decided it was time for dinner.
How about an Atomic Burger?
Such a cute weird place. Lots of action figures and toys all around. And bendy curly straws. Really interesting unique place all around. Even the names of burgers were lots of fun. And it is home to the Godzilla challenge- triple burger with 3 sides. The record holder is just over 6 minutes to finish!)
Ma was boring with a "Forrest Gump" aka a plain burger with cheese.
I was slightly more adventurous with the "Dr. Zachary Smith"** aka a burger with mushrooms and Swiss. And onion rings. They were delish!
I want to go back to the try PeeBee and Jay aka a burger with peanut butter, red onion marmalade and bacon! I know I know, gross right? But the girl next to us got it and said it was quite delicious.
All in all a fun weekend! But time for work now!
**I had to google Dr. Zachary Smith- he was a character on Lost in Space circa 1965.
- Posted using BlogPress from my iPad