Exude me for the no post yesterday. After sending Patrick off back to the states I had a busy Fay of laying around being sad and lonely and watching movies and playing on the iPad and eating wagamama for dinner.
Our only day in Oxford was not incredibly exciting and busy. I figured since we pretty much walked 15 years off our our life in the previous 7 days, we needed to take it easy. I took Patrick around "my" Oxford so he could see what I am talking about when I talk about where I am. Definitely kept it low key.
Christ Church where I went on my first weekend in Oxford.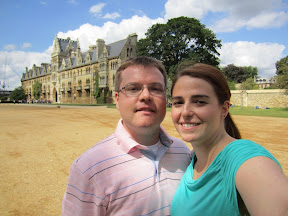 The Meadow
The Bear (never actually went in, but it's a quaint pub tucked behind the Christ Church)
Climbed to the top of the Carfax Tower. Teeny tiny spiral staircases!
With a gorgeous view of the city. You can see my fav building, the Radcliffe Camera and St. Mary the Virgin church to our right.
We also had a birds eye view of a guy getting arrested. We saw him earlier and he was completely bombed... At like 2pm. At one point he was on the ground face down yelling "they're killing me!" quite funny actually.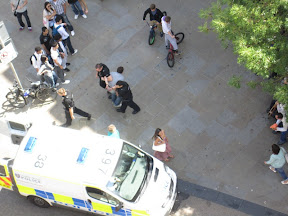 Walked around to some of the colleges.
The Bridge of Sighs
My fav! The Radcliffe Camera
Followed up with dinner at Young's Angel and Greyhound Pub. He finally got his fish and chips!
Topping the evening off with a game of scrabble... Even though it was missing lots of tiles. We did okay.
Saturday morning was a sad sad morning. I did manage to get him in on one of my daily shots though! After packing up and finishing some laundry we headed over to Cafe Coco for a late lunch.
And then off to the bus stop to wait for the airline to come. It started to rain... Which fit my mood perfectly.
I am really sad to have our trip together end, but now that I am back to day one of my second round here, it's time to get things done so I can get home!
- Posted using BlogPress from my iPad