13ish hours after leaving home we arrived in London! As per usual, there was a screeching toddler the row in front of us on the first leg of the trip, and then a drunken chatty Kathy next to us on the second leg. He claimed he never sleeps on planes and yet he passed out roughly an hour later.
Comfort! PINK by Victoria's Secret outfit. I think I still look okay after plane yuck all over me.
Getting to the hotel was tricky. We took a train from Heathrow to an Express to Paddington, to an underground to Embankment Pier. It was fun lugging around 5 ginormous bags let me tell you!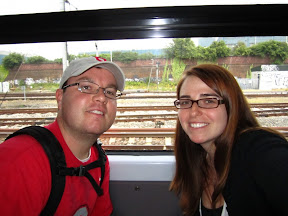 We arrived and checked in. Our hotel is oddly spacious. We didn't find it small at all! Set off immediately for Trafalgar Square and Piccadilly Circus and some lunch. After walking around for roughly 2 hours we went back to the hotel and crashed! 1 hour nap turned into 2.5 but it was much needed!
Washed the plane off of us and regrouped and set out around 8 for dinner and more walking around.
Hey kids look! Big Ben!
(parliament)
And the London Eye are all a short walk from our spot.
We did well! Walking around for a while and taking in the street performers and random nut jobs around the city was fun. Plus the river area is really pretty.
It wasn't until we realized it was after 930 that we needed food. Enjoyed drinks at the Silver Cross and went to order food but the kitchen was closed! We were really looking forward to the roast and the steak and ale pie. We will try to go back for sure!
Tomorrow will be a busy day! We are starting out early and taking a tour. Hope to get in TONS! Including Westminster, Buckingham Palace, London Bridge and much more!
Hope everyone is staying cool back home- enjoyed 65* weather here and looks to be about 72* and sunny tomorrow!
- Posted using BlogPress from my iPad