I was going to recap my day at Stratford today but because my colleagues are the sweetest thing since sugar, I have something better.
I scoured my wardrobe and discovered nothing red or blue other than jeans so I went with my new dress from River Island. This was a step out of my comfort zone (big print, trendier shape) but I really liked it!
I walked into work today not really thinking about much... Other than I am coming home in 3 sleeps! And to my surprise I saw this.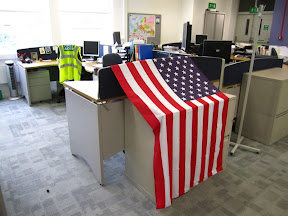 How completely adorable are they? Oh so subtle... Just like me :) I can't even count the number of comments I got. In a good way. It made my heart flutter and I was honestly so touched they thought of me.
P.S. Notice how my desk is higher than all the others? The guy that usually sits there is like 6'5" and his desk has been put up on stilts! You can really notice if you look at where the cabinet hits the desk compared to the one on the right. I feel like a child sitting there. Haha
But that wasn't it. They went in search of American treats for me! Donuts, muffins, Oreos, Hershey's, Reese's... I think they are trying to make me fat. I think I ate 8 of those donuts. At least.
But there is more! I returned from lunch to find red white and blue balloons and a big bag of m&ms.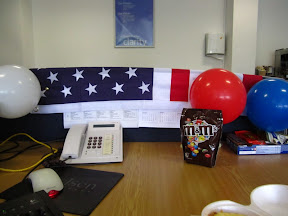 I am proud to be an American and so lucky to have coworkers that appreciate that fact as well.
- Posted using BlogPress from my iPad