Warning- lots of pictures. Like tons.
Felt a little Mad Men-y today.
Alright time for Stratford. Got your exploring shoes on? Okay good! Here we go!
RollRight Stones. Kind of like a mini Stonehenge. Not sure how or why they are there but they say if you walk around counting the stones you will never get the same number twice.
The Lych Gate of St. Peter & St. Paul
Narrow boats along the river in Stratford. There was a festival so lots of activity and people and music and sights.
Dale and I actually went in one of the narrow boats. Bigger than they look, but I could never live in one! Like a really long and skinny RV... On water.
The swans were so pretty!
Watched the locks too... The water aides and lowers to transport boats through the channels.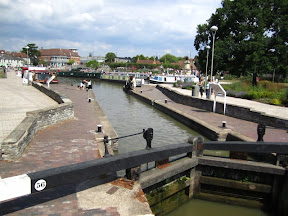 The water filled up and one boat went in.
Followed by another. And then the water was let out... The boats slowly lowered.
Till they were level with the rest of the channel. Gates were open and off they go. Actually a pretty slow process but interesting to watch.
The house where Churchill died.
Hall's Croft. House where Shakespeare's daughter lived with her husband Dr. John Hall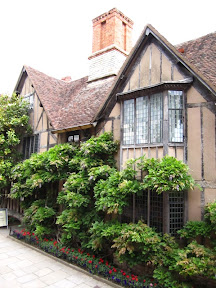 Anne Hathaway's House
The tour bus took a turn towards the country and It was spectacularly green and beautiful.
Haha though I was almost blown out of the bus... Riding on the top of an open top bus isn't a good idea when you are going 40+ km/h through the rolling countryside.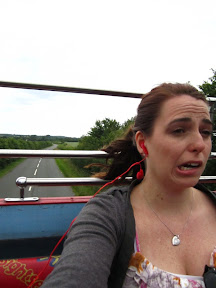 Shakespeare's birthplace and the garden behind it.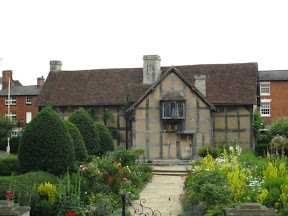 Inside the Guild Chapel.
The Globe Theater... I walked around and found an open door
And it was the inside of the theater! They were setting up for a show. It was just like I remember seeing in English books with the balconies and the shape. With modern enhancements of course. I snapped one photo secretly and then exited only to hear someone behind me ask "how did you get in there? No one is supposed to be in there..." oops!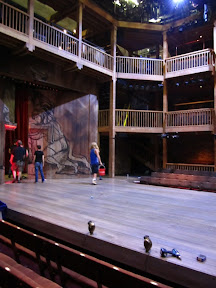 Rounded out the trip in Stratford with a pitcher of Pimms... And no I did not drink that entire thing myself. Though it was delicious and I have bought a bottle to bring home.
On the way back we stopped at a pub for a late lunch.
Roast beef with Yorkshire pudding, roasted potatoes, and cabbage and carrots.
I learned how to play "Aunt Sally" (basically corn hole or horseshoes but with stick and a "doll" you try to knock off a pole)
And finally we returned home and away they went! Dale and Penny were so awesome for taking me out and I had the best time with them.
Of course, after a little nap I threw in some wash and couldn't just sit at home so back to the pub I went for a pint. Lager this time.
Mostly packed up tonight. 2 more sleeps till I am home!
- Posted using BlogPress from my iPad