Fabulous Friday is finished. Also meaning that I am one day closer to coming home! Decided to mix it up a little bit and go with a print. And I rolled my jeans to show off my sandals.(man I love these sandals) I felt weird with high waters on, but I thought it looked cute.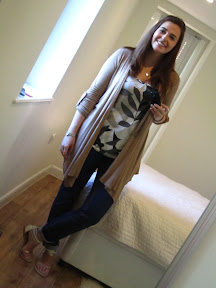 The title of the post refers to my lunch. I saw it on the menu earlier in the week and knew that would be what I was having. Toad in a hole is basically a Yorkshire pudding with sausage in it. Usually served with gravy. And since I never had Yorkshire pudding either, it was going to be an adventure!
Now I know it looks like a pile of mess, but it was actually really good. The Yorkshire pudding might have been my favorite. I wish I didn't put so much gravy on it because the bottom got a little soggy.
Since it was Friday and early leave, I went down to the shops. And actually shopped! Maybe I don't suck so bad at shopping after all.
I stopped at Paperchase to pick up a little gift for the bday party I am attending today, followed by Lush, then over to River Island where they were having a big sale.
Paper chase has lots of notebooks and pens and cute things. I thought this notebook was the cutest thing ever with sweets with faces! And of course you need pretty gel pens to go with it. It's for a 13 year old girl. I hope she likes is. I am going to try and pick up some chocolate before the party and put that in there too.
And that card? Has KNITTED! Cupcakes on it. I just had to get it.
Popped into Lush for a few more things. Comforter bubble bar, another bath bomb, and some soap.
But! Before I left, I was also gifted 2 free items. Both only available at Christmas time. Glogg shower gel, and a Snow Fairy lip tint. Glogg smells just like Lambkins to me... Or how I remember the burgundy bags smelling when I would bring home my new yarns. Cinnamon, clove, citrus, really warm and yummy.
Next up, River Island. I actually bought prints! They were having a sale and I picked up a cute sleeveless long shirt tunic thing with ruffles and a cute summery print. And a more bold dress that I will wear with a cardigan and leggings. Even better that they were only £10 each!
Finally I was starving... Shopping does that to me. So I grabbed takeaway again. This time I went back to wagamama. That place is so yummy!
And that about sums up my day.
Big plans this weekend, it is my last weekend in Oxford before I go home so I am going to a barbecue today, then out to Stratford tomorrow with Penny. Plus the weather is really nice so I may try and do a little more exploring if I have time, but not likely.
Hope everyone has a great weekend. I am definitely a little more homesick this weekend with all the parties and festivities happening at home for the 4th. But I am staying busy and I will be home in just 5 days!
- Posted using BlogPress from my iPad