This blog wont continue to showcase that I take way too many stupid cat pics.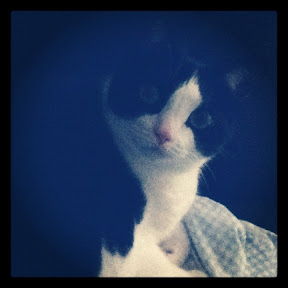 Thanksgiving is tomorrow and I am hosting for the first time ever. I have a 16+ pound bird thawing in my fridge (since Saturday) and I'll be up at the crack of dawn watching YouTube videos on what the heck I'm supposed to do with it. I may or may not get sick when it comes to the 'innards' ::gag::
Mr. Buckeye will also be assisting in our famous mashed potatoes. They are only famous in our family and they are adored because we use way too much butter but it makes them tasty and super good for you.
Tomorrow is also Mr. Buckeye's birthday. I may attempt a cake, or I may not. It is still up in the air. Either way, I thought about his gift and am super excited to give to him although I don't know if he will be as ecstatic as me. I tried to be a little creative with it so I hope that counts for something.
And one more for good measure...
- Posted using BlogPress from my iPad