So I am sure most of you know about the giant black Internet hole that is Pinterest.
I have pinned and pinned and pinned some more.
And today one of my pins came to life!
I pinned
this outfit
a little while ago:
And guess what I found in my closet this morning... A black dress with pockets, black cardigan, grey tights, and my camel boots! What a perfect way for them to make their entrance this season!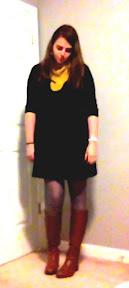 Apologies for the heinous iPad photo. Camera is on it's way back to me tonight via the husband who has been gone for work.
I love this look and never in a million years would I have thrown them together in this fashion.
Thank you pinterest!
- Posted using BlogPress from my iPad